Accessing Convocation 2021 on Demand
On Monday, August 23, 2021, Rutgers University-Newark welcomed new students with a virutal convocation.  We want to invite you to watch and listen to the inspirational words shared during Convocation 2021. You can join us by clicking on the "On Demand" image below.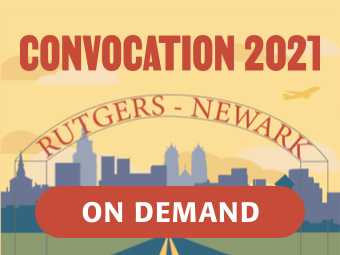 During the event, students and friends heard from:
With the On Demand Presentation of Convocation 2021, students can click on Welcome videos from:
View Fall 2021 important dates here
Join our Fall 2021 Weeks of Welcome!
Connect with the Rutgers University-Newark community and get involved in campus activities as we kickoff our Fall 2021 Weeks of Welcome!