Campus Financial Resources 
In the unprecedented situation our community, nation, and world are facing, we know that many students face increased financial constraints.  The federal, state and local governments are working quickly to resolve financial constraints for New Jersey residents. Rutgers-Newark leaders are working very closely with Rutgers-wide officials to coordinate the terms and timing of refunds connected to housing, dining, and other services.  We will update students with new information about this via email as soon as it is available.  Students can also access the FAQs on the Rutgers Coronavirus website.
Our hearts and minds are focused on you.  Please make use of the resources on campus that are available and operating during regular hours of operation.  
Off-campus Financial Resources
Beyond Rutgers University-Newark, there are a number of resources you can access. Below we have complied an important list per students' requests. 
Get Help with your Rent and Protection from Eviction 
Click Here! Deadline to apply: Dec. 15, 2021
Your Federal Student Loans - Updates from the U.S. Department of Education
On August 6, 2021, the U.S. Department of Education announced a final extension of the student loan payment pause until January 31, 2022.
Looking for more information from the Department of Education?   Sign Up For Email Updates
Undocumented + DACAmented Financial Resources
EduMed - Scholarships and Resources for Undocumented Students
Applying for and learning about New Jersey Unemployment:
If you may have lost your job due to Coronavirus, students should be filing for unemployment.  In the event that you should lose your employment, your current employer should be providing you details on how to apply for unemployment.
NJ COVID-19 and Residential Mortgage Relief
The State of New Jersey is working to lessen the financial impact of COVID-19 on residents who are struggling to pay their mortgage and bills.
NJ COVID-19 Emergency Rental Assistance Program Phase II (CVERAP Phase II) 
The COVID-19 Short Term Rental Assistance Program will provide temporary rental assistance to low- and moderate- income households that have had a substantial reduction in income or have become unemployed due to the COVID-19 pandemic.
Updated information on housing in Newark and beyond:
Ensuring that you have access to housing is essential during this time.  To assist residents across the city and the US, the President and mayors have taken steps to eliminate evictions. The State of New Jersey and the City of Newark have suspended evictions and forclosures until January 1, 2022.  How the new NJ eviction and foreclosure moratoriums work, and when prections end, an article on Northjesey.com explains important details for renters and home owners.
Important resources for renters facing eviction:
Applying for and learning about SNAP:
SNAP may be able to help you with a number issues, especially with access to food in your community. Learn all about SNAP and other services.
NJ COVID-19 School-Age Tuition Assistance for Working Families 
The New Jersey School-Age Tuition Assistance Program can help you pay for care for your school-age child in need of child care as a result of COVID-19 remote learning schools schedules. 
For more on COVID-19 Child Care assistance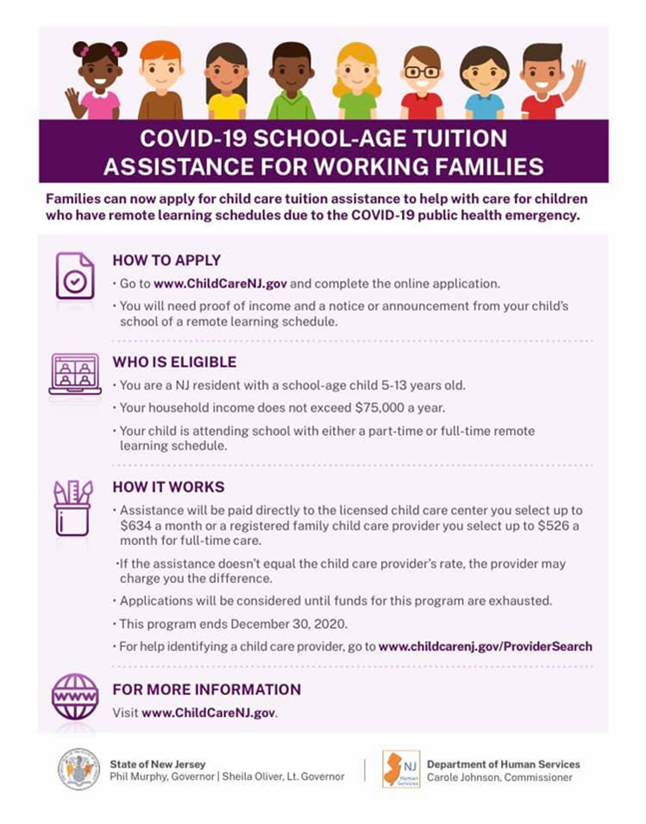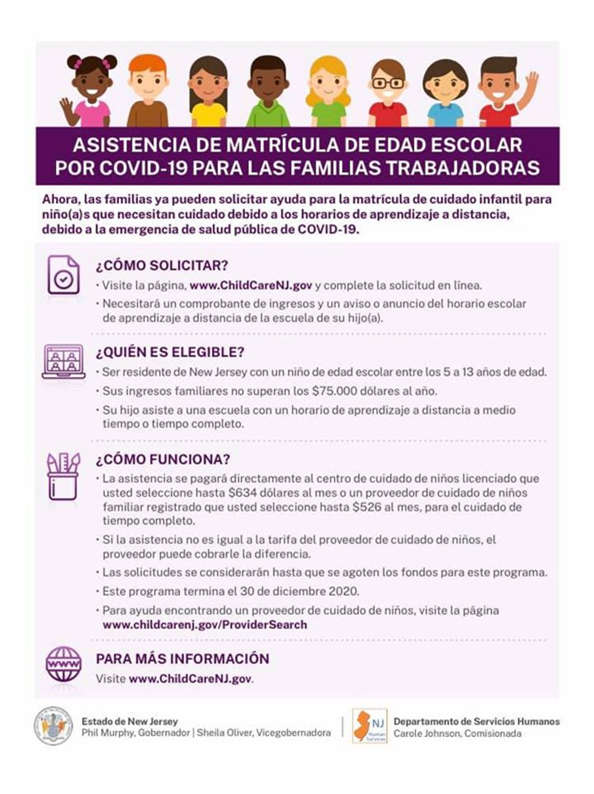 Working with other major expenses:
Beyond educational expenses, students also asked for information on how and when to deal with a number of other expenses. Below, you will find current announcement on how to work with current lenders and payment options: