At the start of each semester, students need to complete the RU Here confirmation of attendance process when attempting to access any online system which requires log-in with their Rutgers Net ID. Students must participate in RU Here before the deadline or their classes and financial aid will be cancelled.
For questions regarding the RU Here process for Rutgers University-Newark, please contact myRUN at 973-353-1766 ext 1. or contact us.
RU Here Spring 2022 important dates: 
Begins: 

Graduate Students: Wednesday, January 5, 2022
Undergraduate Students: Wednesday, January 12, 2022

Ends (Deadline to complete): February 2, 2022
Important Notes: 
Students who have not completed RU Here by the deadline will be deregistered on Thursday, February 3, 2022
Are you not able to see the pop-up?
Here are a few reasons why:
| | |
| --- | --- |
| The RU Here pop-up hasn't gone live yet | The pop-up goes live around 5 days before classes start. See above for Spring 2022 live dates. Go-live dates differ between undergraduate, graduate and law school students during the fall and spring semesters. |
| You need to disable your pop-up blocker | Disabling your pop-up blocker will then allow the RUHere pop-up to appear when you log in with your Net ID and password. |
| You are not yet registered for classes | Students who are registered for classes for the semester in which they are looking to answer the RU Here pop-up should be able to get the pop-up. If you are not yet registered for classes, you won't see the pop-up. |
| You are logging in with your 9-digit RU ID # instead of your Net ID | A couple of our online web platforms provide you with the option to log in with either your 9-digit RU ID number or your Net ID and password. Please make sure you are signing in with your Net ID and password. |
Once available, here's what the pop-up will look like:
Step 1. Once you log in to any RU website that requires Net ID and password login, you will be presented with a pop-up window where you will be able to confirm your enrollment plans. You will either select the "Yes, I am attending..." option OR the "No, I am not attending" option, which will drop you from all of your registered courses for that semester.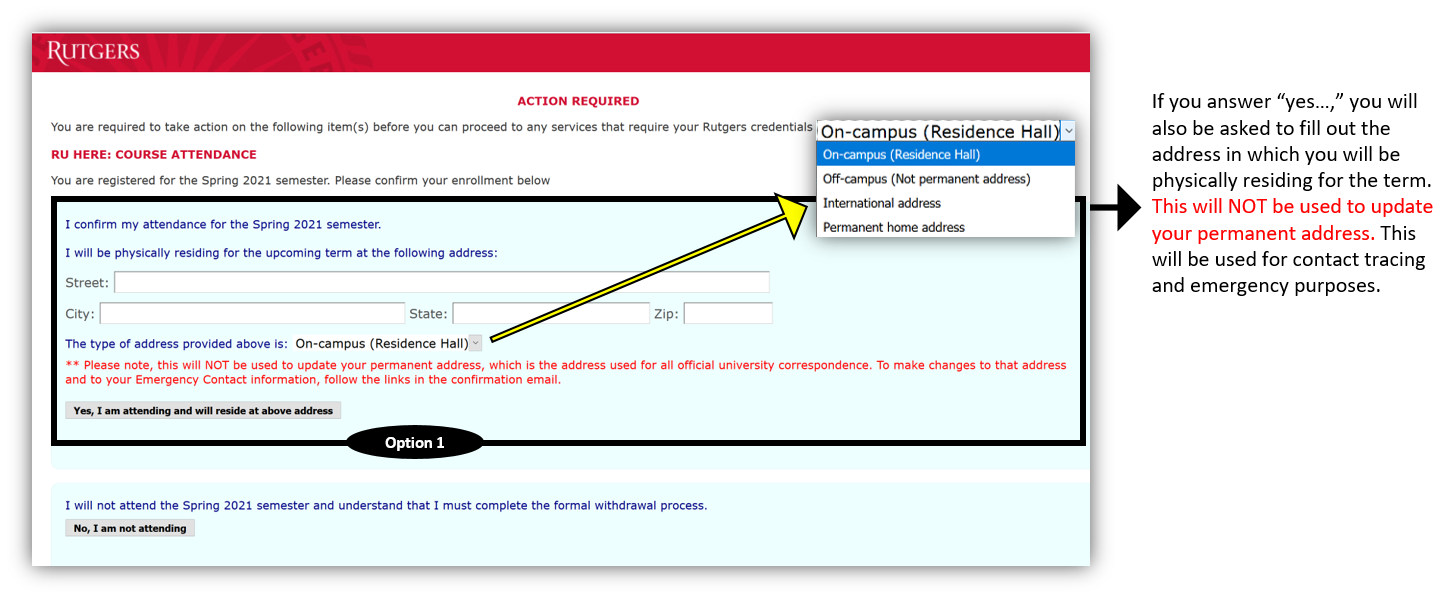 If you will NOT be attending the semester, select the "No, I am not attending" option on the pop-up, as seen below.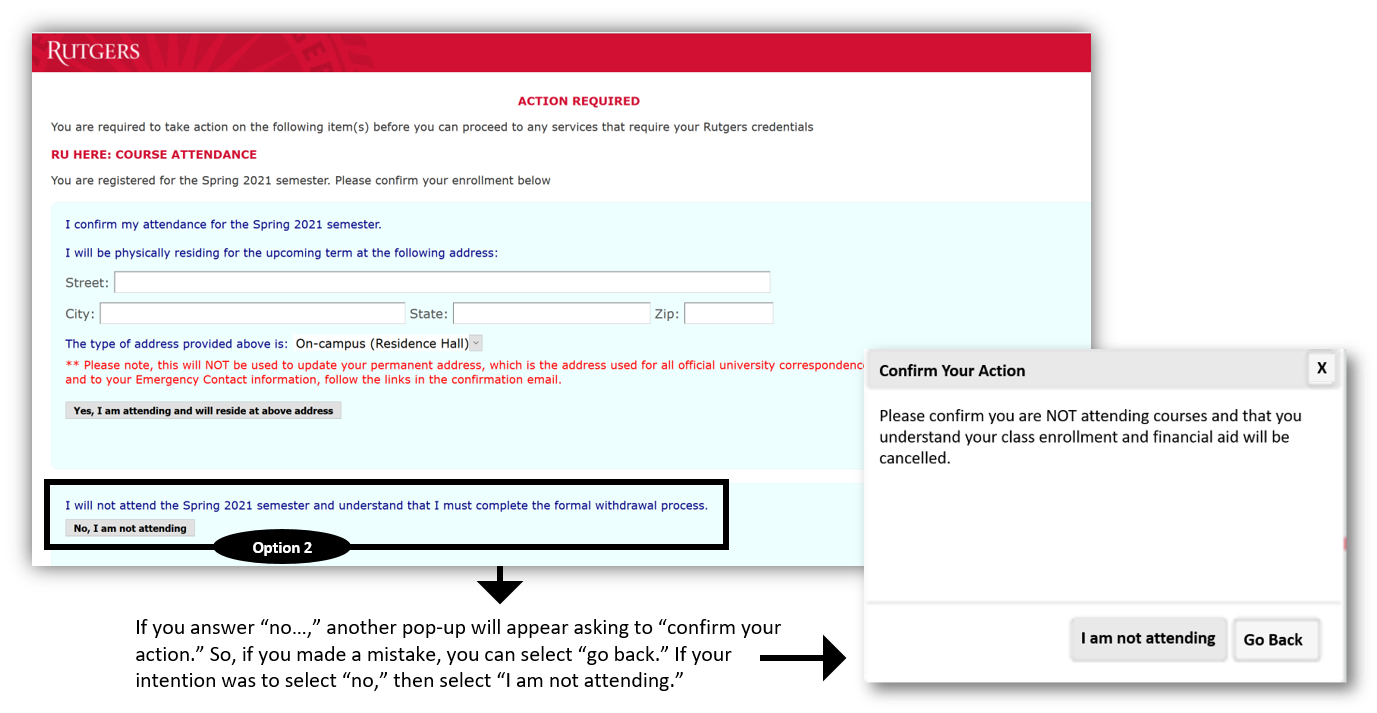 Step 2. The Financial Responsibility Statement (FRS) is a mandatory agreement accepting financial obligations and responsibilities for attendance. If you do not have a valid FRS on file, you will not be prompted to "Agree" to the terms of the FRS.

Step 3. Please ensure you complete the "RUHere" process and do not log out of the system early. If you do not receive a message confirming completion of the process, then you have not reached the end of the process, and must start again.