General Registration Guidelines
Registering for a class is easy to do. Here's some guidelines to follow.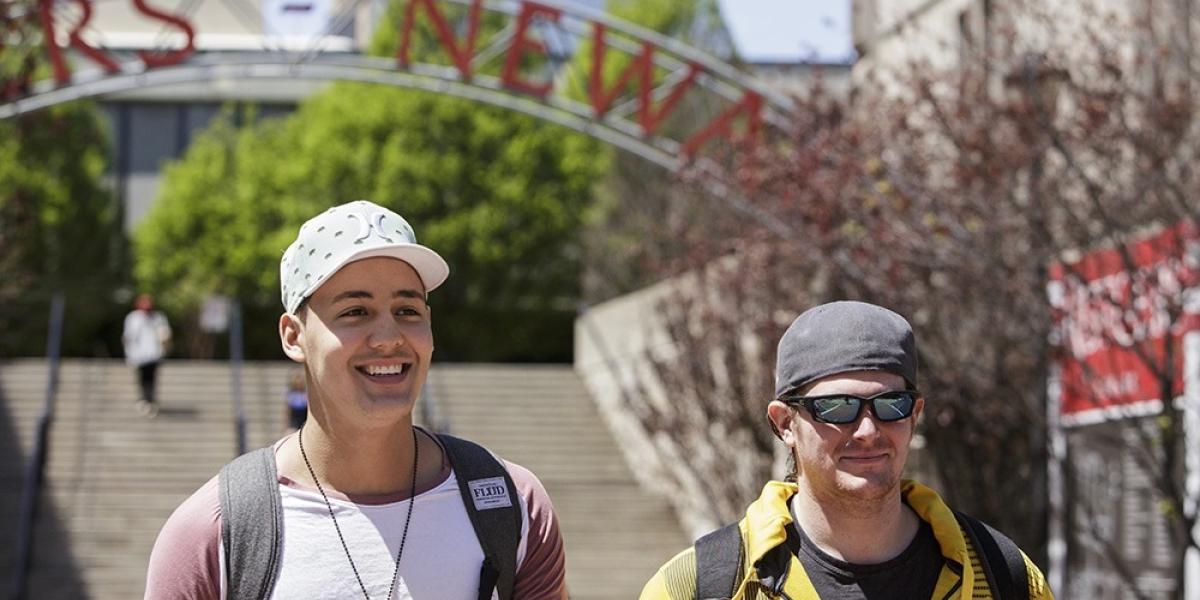 To register for courses, you must first identify your student status. This will then determine whether you are permitted to use WEBREG.
Which undergraduate student status are you?
First-Year Undergraduate Student
New Transfer Student
Continuing Undergraduate Student
WEBREG is an online system for matriculating students to register, change, or add/drop courses to your class schedule. Please visit the WEBREG page for more information.
Note:
Matriculating students are those who have been admitted to pursue a specific type of degree at Rutgers.
Non-matriculating students are admitted to Rutgers temporarily to take just a few courses for the following fall or spring semester.
First-Year Undergraduate Student
First-year undergraduates are first-time students at a university/college. A first-year student is admitted in the fall and spring terms. Upon admission to Rutgers University–Newark, you will be directed to the Enrollment Pathway, where you will select from a list of dates that is convenient to attend a New Student Orientation, Advisement, and Registration event.
You may only register after you have met with and obtained permission from an academic advisor during the Orientation, Advisement, and Registration event.
For more information, please visit "I'm a New Student."
Continuing Undergraduate Students
Continuing undergraduate students at Rutgers University–Newark will receive notification through email about the start of registration for the fall and spring terms. Registration continues for each term through the add/drop period (usually the first week) of the term.
Below is a guide you can use for a timeline for when registration will begin:
| | |
| --- | --- |
| Semester | Date Range |
| Fall | Between the end of March and beginning of April |
| Winter | End of October |
| Spring | Between the end of October and beginning of November |
| Summer | End of February |
Special Populations
BA/MD students 
Honors College students 
Honors Living Learning Community (HLLC) students 
NJ Step/Mountainview students 
Pre-Health Learning Community Students as identified by OAS
Students approved for accommodation for early registration as identified through the Office of Disability Services
Veterans
For students who wish to be identified as a student in need of Special Population Registration, please complete the online form.
Pre-Registration Period
Pre-Registration Period is the time that continuing undergraduate students begin to plan their schedule for the upcoming fall and spring terms. You are advised to meet with the Office of Academic Advisement & Student Services to determine your calendar, review your schedule of classes, and prepare for online registration on your designated date.
Make an Appointment with your Academic Advisor
The date on which you are allowed to register is based on your degree of credits earned at the time of registration and does not include credits that are currently in progress.
An email notification is sent to advise of the upcoming pre-registration period and will also be posted to the "Important Dates" page.
Course Restrictions
When attempting to register for a course via WEBREG, review the Schedule of Classes to check for notes indicating that restrictions have been set and how to obtain permission to register for the course.
The following course restrictions will need approval from the Office of Academic Advisement & Student Services:
Maximum credits: You are limited to 19 credits per semester.
Prerequisites: Some courses require the prior completion of other courses.
If you received approval, please bring documentation from the Office of Academic Advisement & Student Services to the Office of the Registrar to process the registration.
The following course restrictions do not require processing through the Office of the Registrar and can be processed in WEBREG by securing a special permission number from the school or academic department. Please refer to the schedule of classes' course section notes for detailed course restrictions.
Open to class: These courses are restricted to students in a specific class standing (for example, a course note indicates "Open to Seniors").
Open to major: These courses are restricted to students who are enrolled in a specific major.
Closed course: These courses have reached the limited number of students set by the department.
By permission only: These courses are managed at the discretion of the department.
Rutgers University-Newark is committed to supporting you to your goal of graduation.
Completing 30 credits over the Fall, Winter, Spring and Summer semesters to remain on track to graduate in four years for first years and two years for transfer students.
If you cannot take a total of 30 credits, please work closely with your academic advisor on your academic progress.
WEBREG Restrictions
Back to Top
WEBREG is restricted to the following students unless authorized by an academic advisor:
First year and new transfer undergraduate students
All undergraduate NCAS, SPAA, SCJ, and UC–N students with a cumulative average below 2.0
All undergraduate RBS (Newark) students with a cumulative average below 2.5.
All students placed on academic probation by their academic Dean
All students who were academically suspended for the current semester
All non-matriculated students
If you fall into one of the categories above, please meet with your academic advisor to discuss how you will be able to register for the term.
Back to Top
Back to Top
Most continuing students will have direct access to WEBREG, however students in the following categories will not have access to WEBREG
All Non-Matriculated students.
Ph.d Management students (620) students.
Ph.d Applied Math Students (645) students.
Note: Students may be blocked from registering if they have an unpaid balance on their Student Account. Students with an account balance may submit payment online or they can meet with a Student Accounts Representative immediately for assistance.
Students excluded from using WEBREG must obtain permission from their Program Director's and submit it to the Office of the Registrar.
All students who have applied for May 2018 Graduation may not register for Fall 2018 unless the student's degree application is denied or otherwise cancelled with their Dean.
Back to Top
Financial Holds
In most cases, a financial hold will restrict you from registering or dropping a course.
Common reasons for holds:
Unpaid or late tuition, health service, or study abroad payments
Unpaid parking tickets
Understanding your financial hold
Resolving Financial Holds
If you have a financial hold, call the office that issued it at the phone number listed beside the hold description. The office that placed the hold is solely responsible for removing it.
To view your financial hold, please log in to the portal.
Still have questions about Registration?
Key Contacts
249 University Avenue
Newark
NJ
07102
Please include your RUID# and full name in the email.