Welcome to Rutgers University-Newark!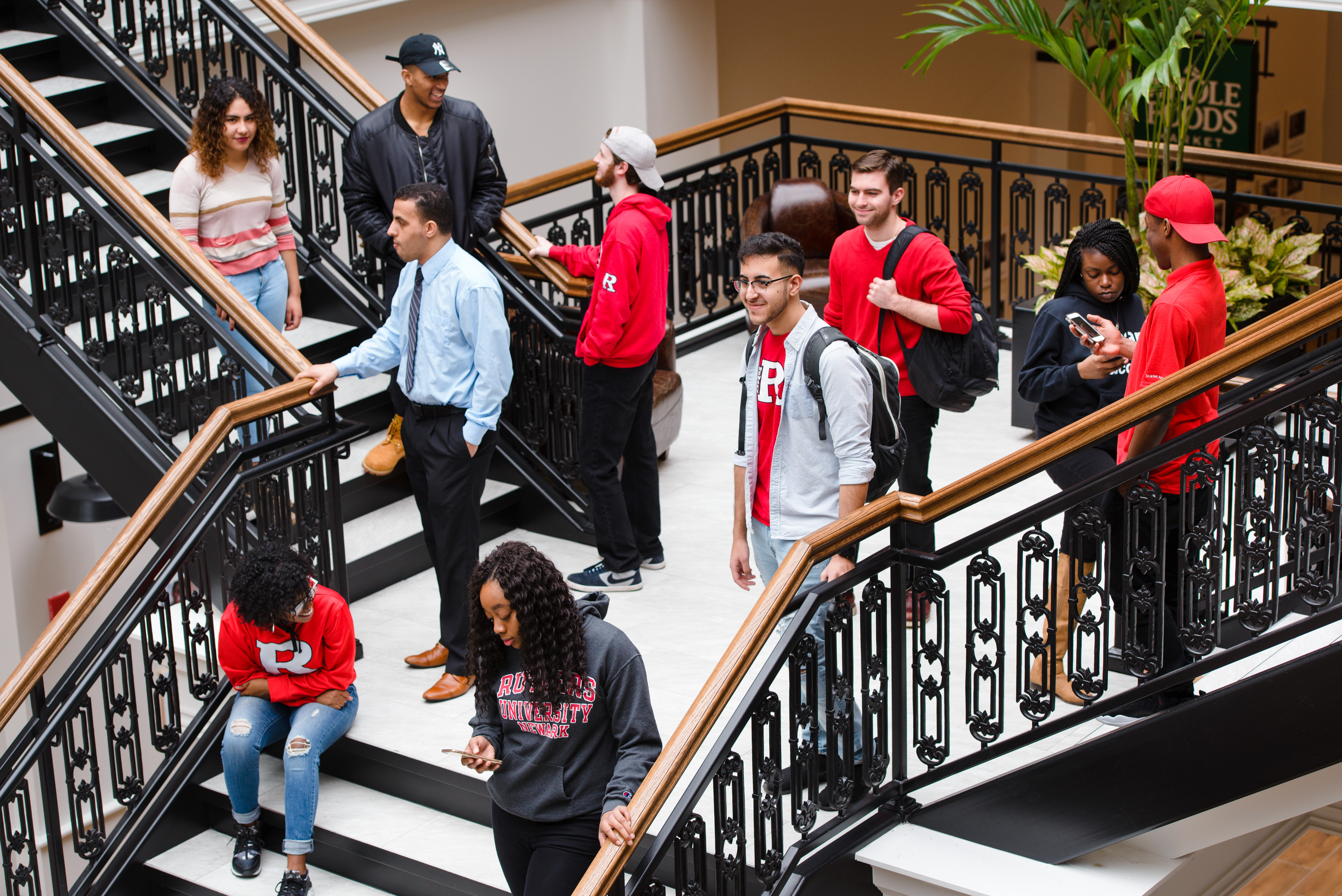 Click here for Message from Chancellor Cantor: Supreme Court victories for justice and fairness
Rutgers University–Newark (RU–N) is committed to ensuring that we remain a place not just open to, but inclusive and fully nurturing of, people of all backgrounds. RU–N reaffirms the university's commitment to remaining a safe space for all to learn. Our students, faculty, and staff work together and take action on issues of importance to the university and to our greater community. Indeed, this spirit of collaboration is embedded in our strategic plan, which we will continue to implement vigorously so our university remains a place of access and opportunity for students of all backgrounds.
On June 18, 2019, in the Dept. of Homeland Security v. Regents of the Univ. of CA, the Supreme Court of the United States rendered a decision preserving DACA.  On July 28, USCIS issued the Wolf Memo which limited DACA and associated work authorization to one year, restricted advanced parole, and prevented initial DACA applicants from filing.  On December 4, 2020, federal district court in New York formally vacated the memo and specifically ordered DHS to announce on its websites that it will accept initial DACA requests, renewal requests, and advance parole requests and that DACA and work permits granted for only 1 year are automatically extended to two years.  We at Rutgers are heartened to hear this news, and remain steadfastly committed to supporting our students.  
If you are a student impacted by this decision, we encourage you to seek legal advice immediately.  Students seeking a free legal consultation should contact RICAP at ricap-info@law.rutgers.edu.  Students with questions about other student support services should contact USS at undocu.services@newark.rutgers.edu.  Though this is great news, DACA is far from secure.  There is still pending litigation that could impact the availability of DACA, so all students are encouraged to act immediately.
Events + Info Sessions
What Happens Now?
Wednesday, December 9th | 2:30pm
Join us to discuss the post-election results, the recent DACA court decision, and what these outcomes means for the undocumented community.
Hosted by Maria Zamora, Program Manager, RU-N IRC- Undocumented Student Services (USS)
Zoom Meeting ID: 833 472 4039
Password: 605907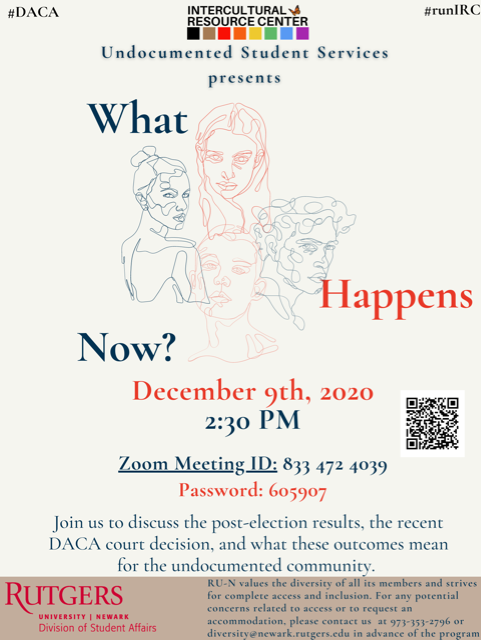 Virtual Town Hall: DACA Updates
Monday, December 14th | 11:30am   
Friday, December 18th | 2:00pm
This space is for students, faculty, and staff that self-identify or work with the Undocumented, DACAmented community. 
Hosted by Undocumented Student Services (USS) and Rutgers Immigrant Community Assistance Project (RICAP)
Same Zoom info for both dates
Zoom Meeting ID: 833 472 4039
Password: 605907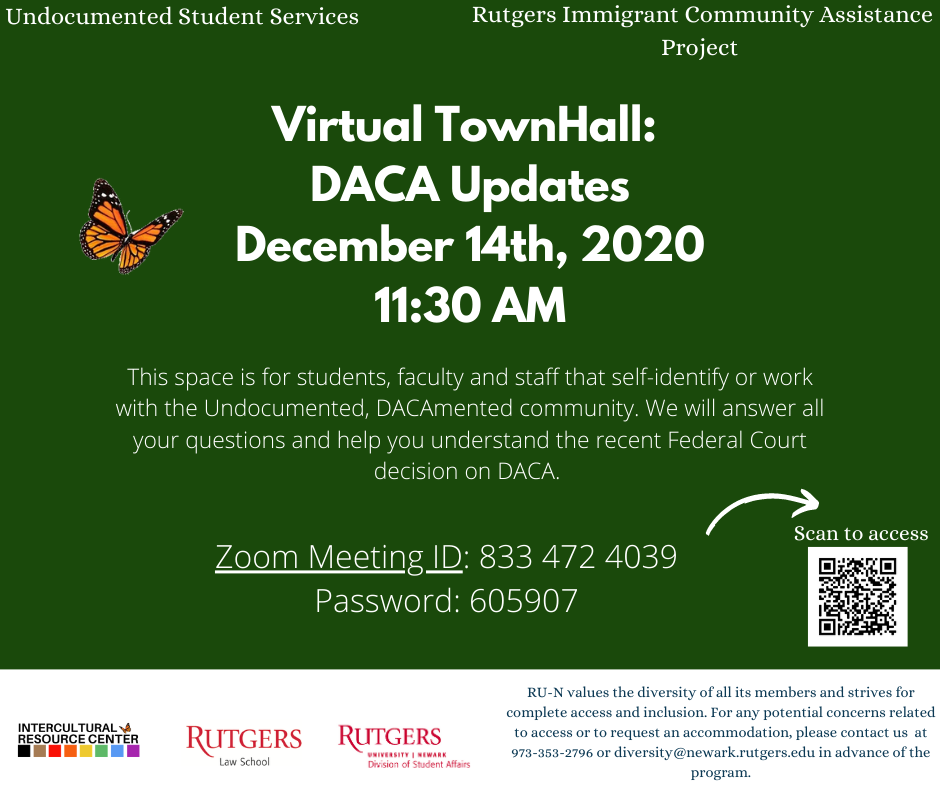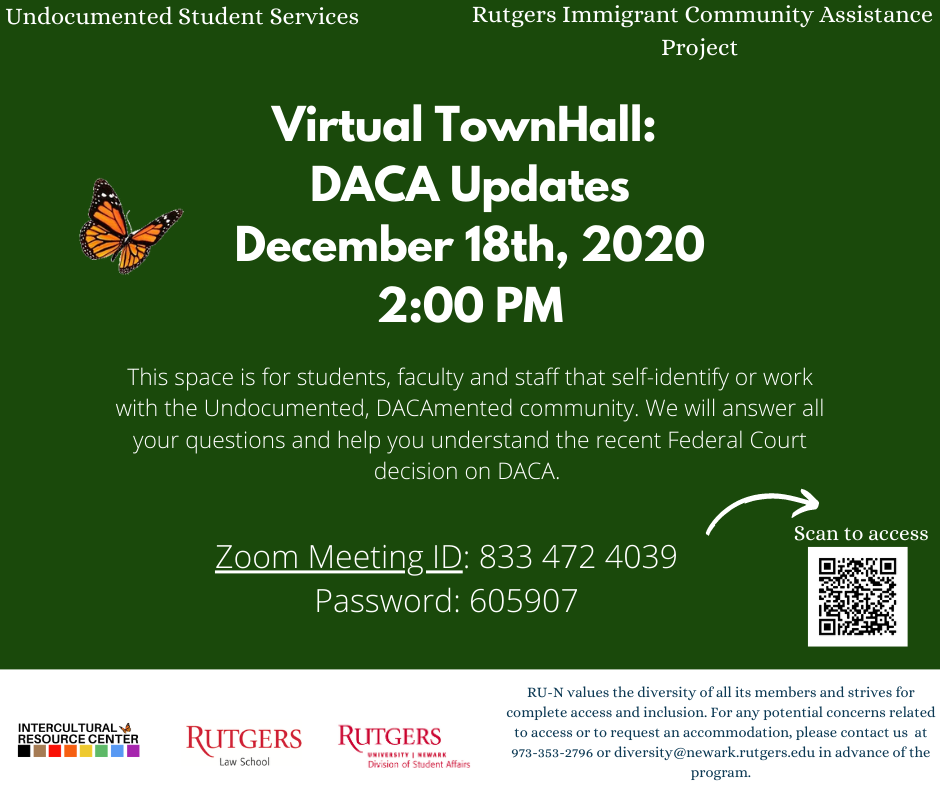 Students, families, faculty, and staff are encouraged to access information on the following topics:In full support of our undocumented students, Rutgers University-Newark would like to pass on information and FAQs issued by The Presidents' Alliance on Higher Education and Immigration. 
Key Contacts
Undocumented Student Services
Maria Zamora | Pronouns: She/Her/Hers | Program Manager | maria.zamora@rutgers.edu
973-353-3416
175 University Ave
Newark
NJ
07102
Undocumented Student Services, Intercultural Resource Center 
Immigrant Rights Attorney | Pronouns: He/Him/His/Él
856-225-2302
123 Washington Street
Newark
NJ
07102
Rutgers Immigrant Community Assistance Project (RICAP)
Follow us on Instagram (@RU_RICAP)