Advisement Contact Info
Your academic support network begins with your academic advisor. Every student at Rutgers University–Newark is assigned an academic advisor in their college upon enrollment. Your academic advisor is a professional who can help you from your very first day until graduation. 
Special Events
Virtual Majors & Minors Exploration Week ​
You're invited to our Virtual Majors and Minors Exploration Week! Beginning next week, you will have the opportunity to hear from faculty, staff and alumni. We are so excited for you to take advantage of the resources on campus and learn from the experiences of our alumni!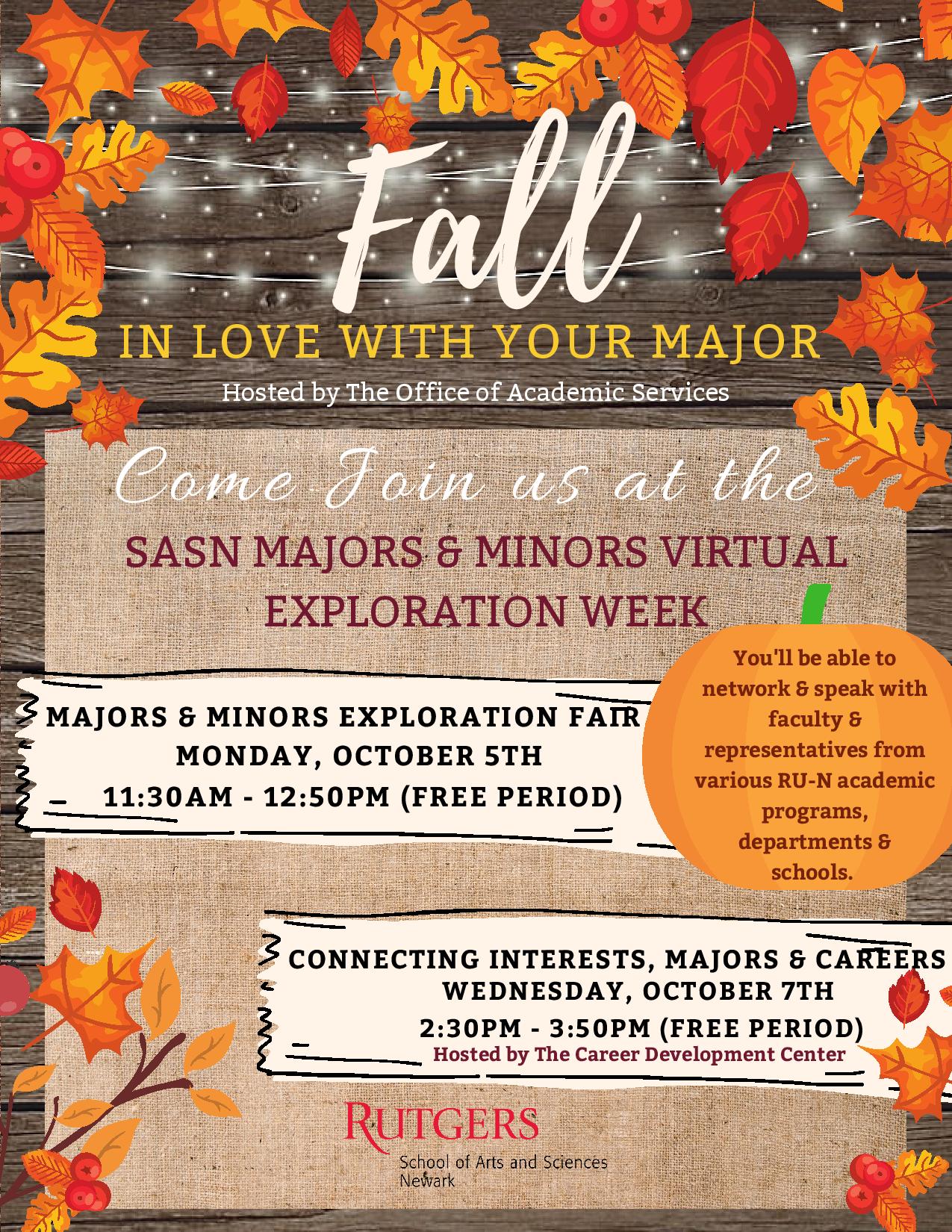 Additional Counselor Info
You may have additional advisors at the university, including advisors from your major academic department, your minor academic department, or a specialized program. If you participate in programs like the Educational Opportunity Fund (EOF), the Honors Living Learning Community (HLLC), or the Honors College, you will also have access to advisors in those programs.
| Office  | Phone | Email |
| --- | --- | --- |
| The Academic Foundations Center (Academic Partnerships | Educational Opportunity Fund (EOF) Program | Garden State – Louis Stokes Alliance for Minority Participation (GS-LSAMP) | McNair Scholars Program | Newark College Institute (NCI) | Student Support Services (SSS) Program), AFC has advised that all questions and concerns should be directed to their listed phone number or email address  | 973-353-3574 | eof_newark@afc.rutgers.edu |
| Center for Pre-College Programs (Abbott Leadership Institute | Rutgers Future Scholars | Talent Search | UAP | Upward Bound), CPP has advised that all questions and concerns should be directed to their listed phone number or email address  | 973-353-3557 | centerforprecollege@rutgers.edu |
| Honors College has advised that all questions and concerns should be directed to their listed phone number or email address | 973-353-5860 | honorsn@newark.rutgers.edu |
| Honors Living Learning Community, HLLC has advised that all questions and concerns should be directed to their listed phone number or email address | 973-353-1333 | info.hllc@newark.rutgers.edu |