Spring 2021
pantryRUN
Paul Robeson Campus Campus Center (including Starbucks) is closed except for the hours below for pantryRUN access.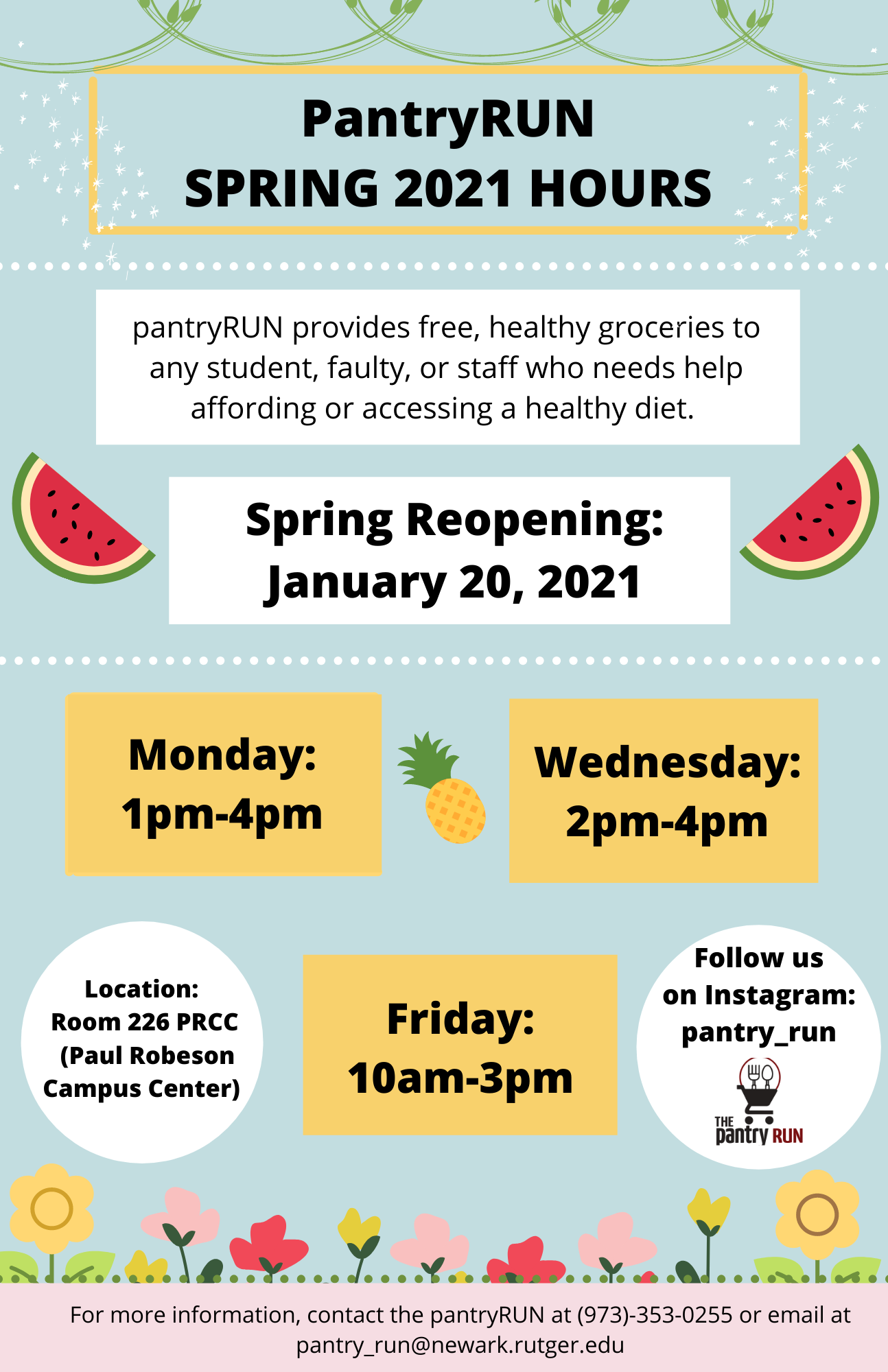 Starting Tuesday, January 19 our pantry hours will be:
Monday 1:00 pm - 4:00 pm
Wednesday 2:00 pm - 4:00 pm
Friday 10:00 am – 3:00 pm
Continue to follow us on Instagram @pantry_run for further updates.
You can also send an email to pantry_run@newark.rutgers.edu
Dining Services
The following Dining locations are open in the Paul Robeson Campus Center: 
On The RU-N
Monday-Friday, 12:00 pm- 4:00 pm
Robeson Café (Meal plan holder? Select and pick up your food in this location) 
Monday-Friday, 8:00 am-7:00 pm
Saturday-Sunday, 11:00 am-7:00 pm
Starbucks
Monday-Friday, 8:00 am-3:00 pm
@runewarkdining
dining.services@newark.rutgers.edu
Fulfill NJ
Need food?
Text "FINDFOOD" to 888-918-2729 
Applying for and learning about SNAP:
SNAP may be able to help you with a number issues, especially with access to food in your community. Learn all about SNAP and other services on myRUN.
New Jersey Launching Online Grocery Shopping for SNAP Recipients
New Jerseyans enrolled in the state's Supplemental Nutrition Assistance Program (SNAP) will be able to use their benefits to order groceries online starting next week.  Online shopping will be available through Amazon and participating Walmarts, ShopRites and The Fresh Grocers.