COVID-19 Vaccination and Exemption Information for Summer 2023
Applying for Summer Financial Aid
To be eligible for financial aid in the summer, a FAFSA must be completed for the prior academic year. Some graduate students will also need to submit a FAFSA for the upcoming academic year. Students must also be matriculated (seeking a degree) and cannot be conditionally readmitted.
Students applying for summer aid will be held to the standards of the academic progress policy. Your summer aid is contingent upon meeting satisfactory academic progress (SAP), or the requirements of your academic plan, if applicable. Academic progress will be measured after spring grades are posted. If you fail to meet academic progress or the requirements of your plan, your summer aid will be canceled.
Before submitting an application for summer aid, please be sure you have:
completed a 2022-2023 FAFSA (or a 2023-2024 FAFSA if applicable*)
met all standards of the academic progress policy
enrolled in the minimum number of credits to receive aid
Summer 2023 Financial Aid Application
Click Here for Summer Aid Details
Enrollment
|   | Undergraduate | Graduate/Law School | Rutgers Business School (Newark) |
| --- | --- | --- | --- |
| Full-time | 12 or more credits | 6 or more credits | 12 or more credits |
| Three-quarter time | 9-11.5 credits | N/A | 9-11.5 credits |
| Half-time | 6-8.5 credits | 3-5.5 credits | 6-8.5 credits |
| Less than half-time | 5.5 or less credits | 2.5 or less credits | 5.5 or less credits |
Summer Aid + Term Bill Payment 
Applying for summer aid through the Office of Financial Aid 
If you are enrolled at least ½ time [6.0 credits or more], you may apply for summer financial aid. If you were a recipient of Pell for fall and spring, you may be eligible for a Pell grant in the summer.
Please visit OFA's Summer Aid webpage to get started. 
Make sure you have a 22-23 FAFSA on file as it is necessary to receive funding for the Summer 2023 session.
Financial Aid will send you an updated award letter via email once processed. This process may take up to two weeks.
Viewing your summer aid on your award letter
Before emailing the office about the status of your summer financial aid, please check to see if your summer aid is already on your award letter. Follow the steps below.
Log in to view your award letter (please note that OFA will be emailing you once your award is ready).
Once you log in, please select the "22-23" academic year, and under "view options" on the right-hand side grey bar select both "awards only" and "term breakdown."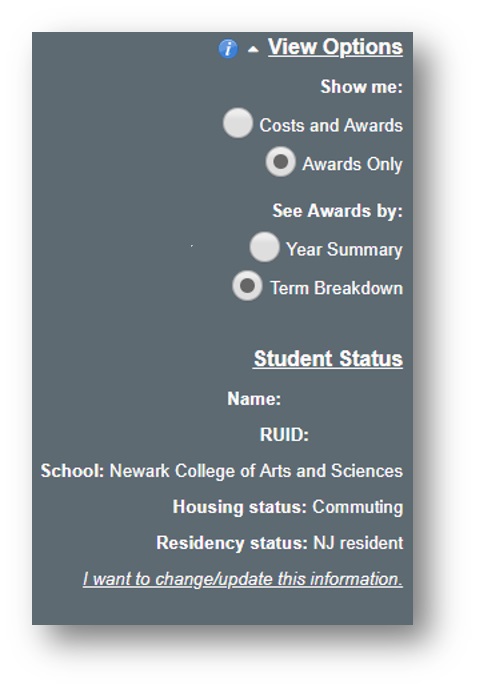 If your summer aid has been processed, it will appear on your award letter as "Additional Federal Pell Grant." 
The Pell Grant hasn't "crossed over" to your term bill
...aka Pell hasn't paid its portion of the summer 2023 term bill. Here's why you don't see your additional Pell on your summer '23 term bill yet. 
Please note that when spring 2023 grades are posted and the Office of Financial Aid reviews you for Satisfactory Academic Progress (SAP), and if there is no issue, the funds will cross over (and show on your term bill) by end of the first week of June.
This process happens every year.
Paying part of your summer 2023 term bill 
This is for students who are looking to pay their term bill but are still waiting on their summer aid to post. 
Math: Summer 2023 total term bill balance - Additional Federal Pell Grant = Payment to be made
Log into your term bill and make sure you select "Summer 2023." Select the blue "Pay My Bill," choose the "I am receiving aid that was not reflected on my term bill" option, and adjust the payment amount. The screenshots below show an example.
If you have additional questions about payments, please complete a web form via the myRUN Supportal at  https://go.rutgers.edu/myrunsupport